By Bob Duncan
After a lifetime of carving, it's only proper that Woodcarving Illustrated should recognize chip carver Wayne Barton as the 2005 Woodcarver of the Year. He started working with wood when he was five years old. "My grandfather—a part of my extended family—gave me a knife when I was five," Wayne said. "He got me started on it. I've always loved wood—loved carving. I'm sure this is partly because of my early experiences with my grandfather."
Later, while serving in the Coast Guard, Wayne was assigned to isolated duty ten miles offshore on a lighthouse. "A wonderful experience," he said. "It was an opportunity to carve whenever I wanted."
After attending college and what he describes as "a few false starts in life," Wayne had the opportunity to study woodcarving formally in Brienz, known as the Mecca of carving in Switzerland.
"I wanted to learn time-tested methods of carving and design instead of fooling around on my own," he said. "At the time (in the late 1960s), there was not much information available here for anyone interested in serious, formal carving study, although there were a few good clubs and organizations around. Even Chip Chats, the magazine of the National Woodcarvers Association, was just a couple of mimeographed sheets! Carving in the United States was just a fledgling hobby for most people. On the other hand," he explained, "the Swiss have enjoyed a long history of excellence for their carving skills. The 1893 Columbia Exposition in Chicago named Johann Huggler from Brienz the "Schnitzlerkonig," or Carving King of his day. "It was a great privilege to study in Brienz," Wayne said. "I'll be eternally grateful for that opportunity, along with the encouragement and support of my wife. It gave me the chance to leapfrog past the trial and error method of learning."
When asked if the carving and teaching process ever became boring, Wayne said "How can that about which you are passionate be considered boring? People normally enjoy what they are doing when they are working with their hands creating things—being creative is not boring. The creative process is life itself." Wayne added, "That is what life itself is about. Read about any of the great artist. They were always creating—up to the end of their lives. Creating is part of what you are—it's the essence of our mental process.""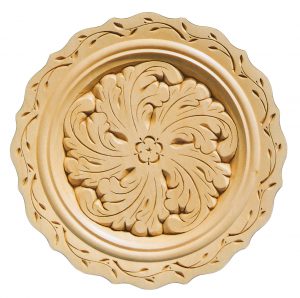 Though trained and skilled in most disciplines of carving, Wayne focused on chip carving because he saw a niche there. "Chip carving has been around for many years in most countries, but interest had waned in the U.S.," Wayne said. "It became lively in the middle of the 19th Century when the Sloyd system of teaching was introduced in 1866 from Scandinavia. The Sloyd system filtered through many of the school systems in the U.S. They taught handcrafts—and chip carving was one of the main ones." Schools began teaching handcrafts in 6th Grade, having determined that students who did handwork did better academically. Wayne said there is a definite connection between the motor skills of hand-eye coordination and learning abstract concepts. But, handcrafts were the first thing to be cut when the schools ran into budget concerns. Then the Great Depression of the 1930s hit, and woodcarving in general tapered off—people were more concerned about surviving than they were about woodcarving.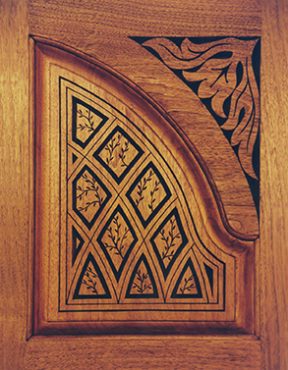 When Wayne started to teach carving in the 1970s, woodcarving in general was having a renaissance. While other forms of carving were booming, chip carving hadn't returned to the mainstream yet, but there was an interest. Wayne took advantage of that interest and helped bring chip carving to the masses. Part of the reason chip carving was so popular was that the tools were simple. "There was a feeling that 'anyone can do this,'" Wayne said. "You don't need to think in three-dimensions. You are not shaping a form; you are decorating a form. I was really drawn to the possibilities—here was an area not really explored," he added. "It was another case of being at the right place at the right time.
One of Wayne's major contributions to chip carving is positive imaging. It was inspired by his study of Gothic architecture wherein geometric shapes are filled with various organic forms and/or lettering. The result is to give an appearance of relief carving using chip carving techniques.
In the early days, when he was demonstrating at a lot of carving shows, he was approached by a representative of a publishing company who asked him to write a book on chip carving. From there he went on to write five best-selling books on carving and produced a video on chip carving. He has also appeared on The American Woodshop show and The Woodwright Shop show. Wayne writes a regular column for Chip Chats, the magazine of the National Woodcarving Association, and contributed articles to a host of other magazines including Fine Woodworking and American Woodworker.
Ed Gallenstein, president of the National Woodcarving Association, said "Wayne is simply a top-notch carver. He's increased the interest in chip carving tremendously, especially among general woodworkers."
Wayne is the only American who does chip carving that has had his or her work exhibited at the Swiss National Museum in a special exhibit. "The influence of Swiss folk art on Wayne's production was one of the main criteria for his selection (to take part in the exhibit)," said Dr. Matthias Senn, curator of the museum.
Wayne also received the prestigious Ron Ryan award from the Artistry in Wood Show in Dayton, Ohio, for his contributions to woodcarving and its teaching aspects.
Ray Kunz, who served as co-chairman of the AIW show with Ron Ryan, said Wayne definitely fulfills the ideals that the Ron Ryan award was founded under. "The ideals of giving of oneself, expressing goodwill, and exerting the extra effort needed to promote these qualities in one's own community and throughout the woodcarving world in general are no better demonstrated than they are in Wayne Barton," Ray added. We couldn't have said it better ourselves.
CLICK HERE to visit Wayne Barton's website.
CLICK HERE to purchase books by Wayne Barton.