Customize this calendar with carved decorations and date tiles
Original design by Paul Meisel
Adapted design and carving by Andy DiPace
For years, I've wanted to make a perpetual calendar. Each month, you set the days, and you can add tiles to represent holidays, birthdays, or appointments. A few years back, I bought a pattern for a perpetual calendar from Meisel Hardware Specialties. While Paul Meisel's original perpetual calendar was attractive, I'm a carver, so I tinkered with the design. I stretched the design out so I had more space, added a drawer and a storage compartment for tiles instead of a compartment with a door, carved the letters, and embellished the storage section with chip carving.
I used clip art to create more decorative elements for the tiles and the top embellishment. You can find all sorts of free clip art online. Create decorative tiles for doctor appointments, dentist appointments, date night, family game night, holidays, and more.
Making the Calendar
Cut the pieces to size. Cut the angles on the top of the Back (A), the Roof (P), and the Sides (Q). Use a table saw or router to cut the 3/8″ (10mm)-wide by 1/8″ (3mm)-deep grooves for the tiles in the Rails (C).  Note: the top and bottom rails have a groove on only one side; the other rails have grooves on both sides. Then, cut the rabbets for the rails in the back. Space the rails to accommodate the Days of the Week Blocks (N), and Month Strips (O) and the Number Blanks (R). They should end up around 1″ (25mm) apart. The bottom rail sits just above the Storage Box Top (L). Cut the rabbets for the drawer sides (J) in the Drawer Front (K) and the rabbets for the Storage Box Divider (E) in the Storage Compartment Sides (D). Use the assembly drawing as a guide to assemble the drawer section (parts H, I, J, K). Then, attach the storage section (parts D, E, F, G) to the back. Notch the storage box top to accommodate the sides. Add the Storage Box Cleat (M) to the bottom of the storage box top. Add the threaded inserts to the back, drill the holes for the thumb screws in the sides, and attach the sides.


CLICK HERE to download an assembly drawing and parts, materials, and tools list for Andy's version of the perpetual calendar.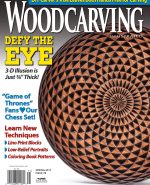 CLICK HERE to see more great projects from Woodcarving Illustrated Spring 2017 (Issue 78), including patterns for the original Meisel Hardware Specialties project. CLICK HERE to purchase the issue.
For more fun and whimsical projects, see Wild & Wacky Birdhouses by Paul Meisel. Make your backyard more exciting with a unique bird or squirrel feeder or a birdhouse that will be sure to attract the attention of backyard critters, not to mention that of your neighbors. The book is available from www.foxchapelpublishing.com for $19.95 plus S&H.