Recreate this historic functional folk-art design
By Mike Bloomquist
A couple of years ago, I saw a photo of a pastry crimper that was carved from wood. Its handle was in the form of a hippocampus (front end of a horse, rear end of a fish), and it had an overlong, unicorn-like horn, which is unusual for hippocampi. A quick web search led me to all sorts of antique pie and pastry crimpers, and I learned that the horn was used to poke vent holes in the top of a pie. In my imagination, a sailor carved the decorative kitchen gadget for his favorite pie maker. Intrigued, I decided to carve a couple of my own pastry crimpers.
Making the Pastry Crimper
Transfer the outline of the hippocampus to a piece of hardwood and cut the perimeter with a scroll or band saw. Use a hole saw to cut the  crimping wheel. Drill holes for the horn and the wheel axle before carving the body. The horn should fit tightly in its hole. Use care when carving the opening between the legs for the crimping wheel. Carve slowly and test the fit of the wheel between the legs often. The wheel should spin freely without wiggling. Carve the horn, and glue it in place. Then, carve the triangles on the edge of the wheel using a tramp-art style cut. Embellish the inside of the wheel as desired. Insert a dowel through the holes in the front legs and lock it in place with glue to secure the wheel between the front legs. Apply a food-safe finish if desired.
Materials:
• Dowel, 1/4″ (6mm) dia.: horn, 2 1/2″ (64mm) long; axle 1″ (25mm) long
• Butternut, 3/8″ (10mm) thick: wheel, 2 1/2″ (64mm) square
• Butternut, 3/4″ (19mm) thick: 4″ x 9″ (10.2cm x 22.9cm)
• Food safe finish
• Wood glue
CLICK HERE to download the pattern for the Hippocampus Pastry Crimper.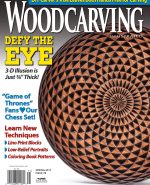 CLICK HERE to see more great projects from Woodcarving Illustrated Spring 2017 (Issue 78). CLICK HERE to purchase the issue.
For more fantasy-inspired projects, see Carving Fantasy & Legend Figures in Wood by Shawn Cipa. Learn to carve some of the greatest creatures of legend, with projects and patterns for wizards, dragons, faeries, mermaids and more. Two in-depth carving and painting demonstrations are each accompanied by dozens of step-by-step color photos. Detailed patterns and reference photos follow for ten additional popular fantasy figures, including a unicorn, troll, gargoyle, phoenix, and gryphon. The book is available from www.FoxChapelPublishing.com for $19.99 plus S&H.