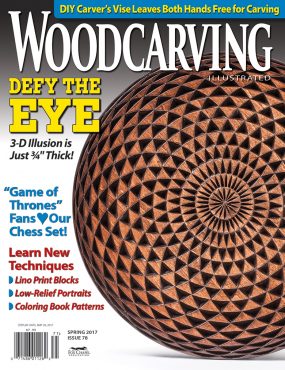 The Spring 2017 issue of Woodcarving Illustrated includes a variety of projects, patterns, and features, as well as interesting techniques. This issue is a part of the regular magazine subscription. It is also available from your favorite retailer or from Fox Chapel Publishing, www.foxchapelpublishing.com or 1-800-457-9112.
Scroll down for a sneak peek!
In This Issue:
Features
Delicate Artistry
By Kathleen Ryan
Nairi Safaryan uses an indescribable technique to create utterly unique art
 .
.

High Relief, High Fantasy
A lifelong fan of fantasy novels, Randy Stoner tries to capture the tales in wood
.
.
Patterns
Building a Carver's Frame 
By Ralph Beam
Shop-made holding fixture allows you to carve anything outdoors
.
.

Perpetual Calendar
By Paul Meisel and Andrew DiPace
Customize this project with chip-and relief-carved embellishments
CLICK HERE for information on an alternate calendar design
.
.
Techniques
Creative Projects from Coloring Books 
By Mindy Kinsey
The coloring fad has a side benefit: the designs are great for woodworking, too!
CLICK HERE to download coloring pages for crafts and carving.
.
.

Carving a Dragonfly Print Block
By Andy Hibberd
Use this relief carving for printmaking or decoration
.
.

Practice Carving Faces
By Dennis Stallings
Practice two expressions on one face with this funny figure
.
.

Carving a Low-Relief Portrait
By Graham Thompson
Learn how to use a photo as a pattern to carve a portrait
.
.

A Chip-Carved Optical Illusion
By Bill Johnson
A clever geometrical design and careful carving make this fl at plate look 3-D
.
.

Carving a Panda Cub
By Leah Goddard
Use a woodburner to add fast and easy texture to this cute critter
.
.
Folk-Art Chess Set
By Vernon DePauw
Customize the colors and details to create a chess set you'll be proud to play and display
CLICK HERE to download alternate shield patterns.
.
.

Pastry Crimper
By Mike Bloomquist
Decorative and functional kitchen tool will help you make heavenly pies
CLICK HERE to download the hippocampus crimper pattern
.
.
Noah's Ark Relief Scene
By Lori Dickie
Skip roughing out by using a precut wooden blank to carve this silly scene
.
.
Finding Beauty in Scrap Wood
By Barbara Millikan
Turn a long, narrow blank into a keepsake rose
.
.

Elephant Hanging Hook
By Bob Hershey
Comical carving is also a functional hanger
.
.
Web Exclusives
Folk-Art Chess Set
CLICK HERE to choose and print alternate shield patterns for the Chess Set
.
.
Pastry Crimper
CLICK HERE to print the pattern for a hippocampus pastry crimper
.
.
.
.
.
Perpetual Calendar
CLICK HERE to get more info on another version of the Perpetual Calendar
.
.

Creative Projects from Coloring Books
CLICK HERE to download coloring pages for crafts and carving.
.
.

Woodchips: Flying High
CLICK HERE to meet an artist who carves realistic airplanes.
Sneak Peek