The perfect sign project for beginners that looks great embellished with gold leaf
By Vernon DePauw
The pineapple has long been a symbol of welcome and hospitality. Rather than carving down the entire surface of the sign, carve and attach the pineapple separately.
Making the Sign
Determine the size you want to make your sign. The pattern is sized to make a 4″ x 28″ sign. Trace the pineapple onto the appropriate blank and cut it out. Carve it to shape, but leave the back flat so you can glue it to the rest of the sign. Then, mark the location of the pineapple, transfer the letters to the sign, and carve them with a knife. Apply glue to the back of the pineapple and drive a screw from the back of the sign into the pineapple to secure it. Rotate the pineapple into its final position, and lock it in place with a second screw. Paint or finish as desired. Follow the manufacturer's instructions to apply gold leaf if desired.
CLICK HERE to download the patterns for a vertical format welcome sign.
---
Materials & Tools
Materials:
• Basswood, 3/4″ (1.9cm) thick: sign, 4″ x 28″ (10.2cm x 71.1cm); pineapple, 3″ x 6″ (7.6cm x 15.2cm)
• Drywall screws, #8: 2 each 1 5/8″ (4.1cm) long
•  Latex house primer: light gray
• Latex house paint: white
• Milk paint, such as Olde Century: settlers blue, hemlock green (optional), goldenrod yellow (optional)
•  Gold leaf, 23-karat loose: at least 5 leaves
• Gilding size, slow set, such as Rolco clear oil
• Wood glue
•  Spar urethane, such as Helmsman: clear satin
Tools:
• Carving knife
• Screwdriver
• Paintbrushes: 1/4″ (6mm)-wide angled shader, 1/2″ (13mm)-wide angled shader, 1″ (25mm)-wide artist, 1/2″ (13mm)-wide soft craft, 1″ (25mm)-wide soft craft
• Small sponge
---
Complete instructions to carve, paint, and add gold leaf to a welcome sign (along with a horizontal format pattern) can be found in Woodcarving Illustrated Spring 2018 (Issue 82).
---
About the Author
Vernon DePauw started carving in seventh-grade shop class and has been carving for pleasure and profit ever since. For more of his work, visit his website at www.vldwoodcarver.com.
---
Want more sign patterns? Check out Lettering & Sign Carving Workbook
By Betty Padden
A contemporary look at a nostalgic craft with updated techniques and a fresh variety of styles for carving and painting a variety of signs for the home, summer cottage or basement bar.
Available for $19.95 plus S&H from www.FoxChapelPublishing.com.
---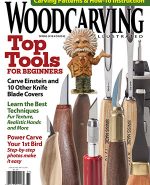 • For more articles like this, subscribe to Woodcarving Illustrated magazine.
Click here
for more information.
• Plus! Get digital mini magazines in your e-mail between printed issues.
Click here
to subscribe to StropTalk, our e-mail newsletter.
---