The Spring 2018 issue of Woodcarving Illustrated includes a variety of projects, patterns, and features, as well as interesting techniques. This issue is a part of the regular magazine subscription. It is also available from your favorite retailer or from Fox Chapel Publishing, www.foxchapelpublishing.com or 1-800-457-9112.
Scroll down for a sneak peek!
Features
Handmade With Love
By Kathleen Ryan
Handcarved cookie molds have been used to make edible artwork for more than 700 years

2017 International Woodcarvers Congress
A look at the top winners and a few of our favorite carvings from the country's top carving competition

Carver Sticks to Scriptures
By Kathleen Ryan
Ron Vance makes his walking sticks meaningful by carving them with gospel messages

Recommended Beginner Tools
By Bob Duncan
Your snap guide to the tools you need to get started carving

CLICK HERE to find more articles to get you started carving.
Patterns
Holding Tightly
By Russell Scott
Customize this easy-carve design to make a gift for your Valentine or any special event

 

Stylized Dancer
By Barbara Millikan
Elegant design highlights a no-fail way to create depth without wasting wood
Projects
Cribbage Board Rosette Carving
By Marty Leenhouts
Learn to carve a classic design by decorating a plate or game board

 

Carving Cookie Molds
By Keoma McCaffrey
Use scrap wood to make quick carvings that you'll use for years

CLICK HERE to download a chart to help you choose a non-toxic wood for your molds.

CLICK HERE to see more carved cookie molds.

Dancing Hearts Wood Burning
By Deborah Pompano
Pair simple burning with easy painting for a pretty spring pyro project

 

Power Carve Your First Bird
By Randy Conner
Simple pose, shading, and feather structure make the Carolina wren a perfect first bird project

 

Carving a Welcome Sign
By Vernon DePauw
Simple system for carving letters like an expert. Plus! Learn how to apply gold leaf

CLICK HERE to download the pattern for the vertical version of the Welcome Sign

 

Folding Cross
By Ron Vance
Use a disposable blade and a series of strategic cuts to create a symbol of the season

CLICK HERE to carve traditional wooden pliers.

Carving the Female Face
By Chris Howard
Detailed instructions teach proportions and explain techniques for creating an attractive portrait
Techniques
 

Creating Realistic Fur Texture
By Bob Hershey
This caricature bunny blends realism with whimsy, making it the perfect project for practicing fur techniques

Creating a Custom Blade Cover
By Roger Beane
Ingenious leather sheath turns any blank into a blade cover

Creating Natural Pigment Paints
By Alan Garbers
Learn to make and  use paints from the pages of history

Carving Realistic Hands
By Dylan Goodson
Step-by-step instructions will help you carve expressive, lifelike hands
Online Exclusives
Wood Toxicity
CLICK HERE to check out our chart to be sure you're using safe wood to carve your cookie molds.
Carved Clichés
When taken literally, as these caricature carvers did, these colorful phrases can lead to gut-busting images. CLICK HERE to see what they came up with.
Bonus Pattern
CLICK HERE to download the pattern for a vertical format welcome sign.
Get Started Carving
CLICK HERE for tool recommendations, carving and finishing techniques, wood reviews, and more!
---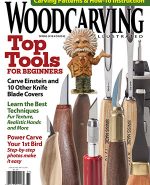 • For more articles like this, subscribe to Woodcarving Illustrated magazine.
Click here
for more information.
• Plus! Get digital mini magazines in your e-mail between printed issues.
Click here
to subscribe to StropTalk, our e-mail newsletter.
---