2017 Folk Arts Festival and Carvers Show Finds New Home, Success
In 2017, The Eastern Oklahoma Woodcarvers Association made a bold decision to relocate their annual event of 40 years from Tulsa, Okla., to nearby Broken Arrow. This big gamble resulted in a big success. Their new location, just blocks away from the burgeoning Rose District, an upscale area of reclaimed and repurposed old buildings, was an immediate win.
This traditionally all-wood-carving annual event was rebranded as the Folk Arts & Woodcarver Show & Sale. "The results were surprising; a 30 percent increase in exhibitors as well as a 20 percent increase in public attendance," show spokesman, Bill Payne, said.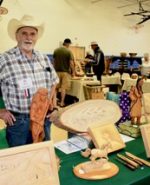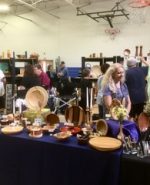 ---
• For more news about clubs and upcoming events, visit our Calendar of Events and Club News pages.
• For more about what's happening in the carving world, subscribe to Woodcarving Illustrated HERE. 
• PLUS: Get digital mini magazines in your e-mail between printed issues. Click here to subscribe to StropTalk, our e-mail newsletter.
---