By Kaylee Schofield
Foodandwine.com has dubbed Giles Newman's spoons "the world's most beautiful," and it's not hard to see why; his art is at once utilitarian and visually delicate. Giles carves intricate spoons and jewelry using nothing but a knife, an axe, and wind-fallen wood from Coed Tegid, his personal nature reserve in North Wales. A photographer and graphic designer by trade, he taught himself to carve using the materials he had with him on weekends at the reserve—a Morakniv 120 Carving Knife and a Gransfors Bruks Small Forest Axe.
For each project, Giles starts by gathering whatever naturally fallen wood he can find in the area; he prefers English oak for its rich coloring and dense grain. He then roughs out each piece with the axe, using a hook knife when necessary to hollow the bowls of the spoons. He shapes his spoons and jewelry using the rounded part (the belly) of the Morakniv, and then completes the detail work by choking up on the blade and carving with just the tip. What results is a practical creation that you might find too lovely to use. And that's okay. As Giles puts it, his sculptural utensils "contradict the principle that the shape of a tool must be defined by its function, and challenge the viewer to question the form of objects that are…fundamental to our everyday lives but often given little regard."
---
Photo Gallery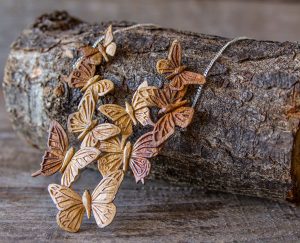 ---
Giles has been carving commercially for just over three years, but in that time, his career has ballooned; since 2016, he has run workshops at the Bushcraft Show in Derbyshire, the Wilderness Gathering in Wiltshire, and the Great Scottish Spoon Hoolie in Sterlingshire, to name just a few.
Giles Newman teaches a woodcarving course in West Lancashire and is featured in Super Handmade Craft 2 (Designer Books). Find more of his work at gilesnewman.com.
---
• For more articles like this, subscribe to Woodcarving Illustrated magazine. 
Click here
 for more information.
• Plus! Get digital mini magazines in your e-mail between printed issues. 
Click here
 to subscribe to StropTalk, our e-mail newsletter.
---
Want more spoons?
Check out Carving Spoons by Shirley Adler.
Enter the fascinating world of spoon carving. Learn to make both traditional and contemporary spoons, with 45 ready-to-use patterns and 2 step-by-step carving demonstrations.
Available for 16.99 + S&H from Foxchapelpublishing.com.
---