Show, carving competition, and sale coming May 5, 2019
NOW AT A BIGGER AND BETTER VENUE!
Mark your calendars now for the Mid-Wisconsin Chippers Woodcarving Show, Competition, and Sale, which will take place on Sunday, May 5, at the Oshkosh Convention Center in Oshkosh, Wisc., from 9am to 4pm.
Activities include a bucket raffle; a live birds of prey presentation; and several demonstrations including power carving, woodturning, chainsaw carving, and pyrography. Whether you're a beginner or a pro, this show offers all the resources you'll need to take your projects to the next level—from wood and tool vendors to sharpening services to books, magazines, and club information.
Don't miss the chance to check out some talented wood artists and learn more about the craft!
Admission is $3 per person; children under 12 free.

The Oshkosh Convention Center
2 North Main St.
Oshkosh, WI
Contact Paul Wolters (920-727-2139) or visit midwisconsinchippers.weebly.com for more information. 
---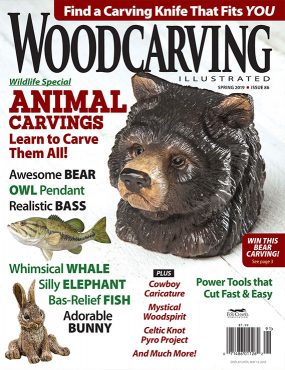 • Click 
HERE
 to purchase the latest issue.
• For more news like this, subscribe to 
Woodcarving Illustrated
 magazine. 
Click here
 for more information.
• Plus! Get digital mini magazines in your e-mail between printed issues. 
Click here
 to subscribe to StropTalk, our e-mail newsletter.
---