Does your family always ask what to get you for whichever holiday you celebrate? Send them here to find a good selection of tools and materials guaranteed to keep you in the chips all year long!
.
The Cape Forge Fine Detail Knife is a hand-forged standard #3 detail knife with a 1-1/4″ long blade. This knife is ideal for all types of projects and requires only stropping to maintain the edge. The tool, which comes with an unconditional guarantee, is available for $42 plus $6.95 S&H from Cape Forge, 888-310-3343, www.capeforge.com.
---
Chipping Away Ceramic Sharpening Stones are state-of-the-art ceramic sharpening stones that will remain flat forever. The dark stones are 800 grit and the white stone 8000 grit. Once you try these ceramic stones, you will never use anything else.  Available in two sizes:  4"x 2" x 1/2" and 8" x 2" x 1/2". The 4" Stones are $32.95 each or $59.95 for set of two. The 8" Stones are $50.95 each or $92.95 for set of two. Shipping is $9.95 to $14.95. Available from Chipping Away, www.chippingaway.com.
---
The Cub is Colwood's most economical woodburning unit. The standard Cub includes an 18-gauge handpiece cord but is also available with a heavy duty 16-gauge cord. The Cub carries a two year warranty on parts and labor and accommodates both Fixed Tip and Replaceable Tip style handpieces. The Cub is available for $63.75 plus shipping (which starts at $7.75) from Colwood, www.woodburning.com.
---

Deepwoods Ventures' Spoon Carving Knife is a must for any carver that wants to carve spoons or any concave surface. It features a versatile, sturdy blade that is sharp and ready to carve and it is available in a variety of sizes and handle options. Prices start at $48.98 with free shipping within the United States. Available from Deepwoods Ventures, www.DeepwoodsVentures.com.
---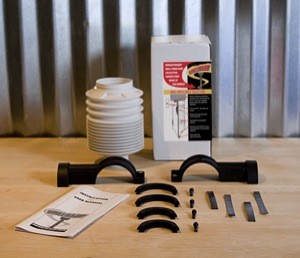 Finally! DRILLNADO provides dust collection for the drill press. Because DRILLNADO surrounds the drill chuck and bit, it collects nearly all of the drilling dust and debris.  Its housing is expandable and sustains the desired length, so you can position the vacuum opening right where the dust and debris is created. DRILLNADO is available for $39.99. Replacement expandable housings are $7.99. Contact DRILLNADO at www.drillnado.com 317-946-7506.
---
Flexcut's 4-Blade Pocket Jack® features a detail knife, straight gouge, gouge scorp, and V-scorp. This jack-knive is a smaller version of our original Carvin' Jack, the first folding multi-tool designed specifically for the needs of woodworking. The MSRP is $88.95. Visit Flexcut.com or call 800-524-9077 to find a Flexcut dealer online or near you.
---
Enhance the decorative appeal of hundreds of items with the brilliant colors and soft texture of Suede-Tex spray-on finish from Flockit.. Flocking can be used to create a soft, velvety surface on a hard item, or to create a more durable and non-slip surface on a smooth or otherwise non-durable surface. Available in over 30 colors; the Rayon Mini Flocker Kit (#645) is available for $22.70 plus S&H from Flockit, www.flockit.com, 800-336-6537.
---
Helvie Knives are both beautiful and functional for your whittling needs and wants. Helvie Knives roughout knife features a  whale tail-style handle made of beautiful multicolored pakkawood. The blade is 1 3/4″ long, 1/2″ wide, and .050 thick with a 5″ handle. The knife is available from Helvie Knives for $37 with free shipping within the United States. Contact them at 765-675-8811 or www.helvieknives.com.
---
Jerry-Rig introduces the Fancort's tapered carving screws, the better alternative to the conventional carving screw. Secure the tapered part of the screw in a pre-drilled hole in the base or back of the carving and tighten it using the hole in the handle. Use the nut part of the handle to secure the screw in a vise or hole in your bench. If the carving needs to be rotated, loosen the wing nut and position the carving, then tighten again; there is no need to drill a deeper hole like conventional carving screws. The medium size screw retails for $42 and the large size screw retails for $52. Visit www.Jerry-Rig.com to find a local dealer.
---
King Arthur's Tools has a brand new wood-eating Holey Galahad. The Purple Round Extreme is for extremely rapid removal, up to 20% faster than the course blue Holey Galahad.  Holey Galahad is engineered to "open a window to your work.? This is a great tool for for coping seats, log  furniture, debarking logs, and it's aggressive enough to carve bowls and platters.  The made in the USA tool is available for $83.20 from King Arthur's Tools, www.katools.com.
---
These gun checkering tools from KV Woodcarving Suppliers are useful for more that just gun stocks! In addition to carving texture to a gun grip, these tools are useful for background detail in relief carvings, and to add fine detail to caricatures and other in-the-round carvings. They come in single, double, and triple with 16 to 24 lines per inch. The cutters start at $7.75 to $9.25 per cutters with no handles, $16.50 to $18 per cutter with handles, and a master set of six cutters with handles for $87.50. Visit KV Woodcarving Supplies at kvwoodcarvingsupplies.com.
---
With the GRR-RIPPER GR100 3D Pushblock, precision, control, and safety have never been so smart. The GRR-RIPPER acts as a Moving-Blade-Guard™ for total hand protection. The adjustable center leg grips the off cut piece and prevents wood burn. The 1/4″ leg controls the keeper piece. Balance Support stabilizes small and narrow workpieces. Fully adjustable to allow for a myriad of uses. This essential safety tool is available for $59.95 plus $8.75 S&H from MicroJIG, www.microjig.com.
---
Mountain Woodcarvers offer eye, nose, mouth, and woodspirit study casts. Each durable, urethane study guide includes an instruction sheet and was cast from an original Skylar Johnson woodcarving, and the sticks give you a step-by-step visual representation of the carving progression. The sticks cost $20 each (plus S&H), and are available from Mountain Woodcarvers, 800-292-6788, www.mountainwoodcarvers.com.
---
The NOVA Precision Midi Chuck is an ideal chuck for mini, midi and smaller lathes with up to 12″ diameter swing. This chuck is ideal for those who want a small, cost effective, and quality chuck made from quality materials with precision machining. It features a common accessory jaw fixing profile that is compatible across all NOVA chucks and accessories. It also features high tech precision composite jaw slides, special woodturning dovetail profile on the jaws, an auto stop feature so the jaw slides can't protrude past the chuck body, a common insert/adaptor fitting that make it compatible across all NOVA chucks, and a two year warranty. The MSRP is $99.99. Visit teknatool.com/distributors/usa.htm to find a local NOVA distributer.
---
Easy Wood Tools' Mini Easy Finisher® features a genuine EWT Carbide Cutter™ with a 3/8″  by 4" long stainless steel tool bar and a 12" long hard maple Easy Grip Handle™. This makes the overall length of the tool 16" with a 2" maximum reach. The MSRP for the tool is $89.99 plus S&H. Contact Easy Wood Tools at 866-963-0294, www.easywoodtools.com.
---
Proxxon's Precision Rotary Tool FBS 115/E features a soft grip two-component housing for comfortable handling and optimal control. There are 1001 uses for this versatile tool, from drilling, milling, grinding, polishing, brushing, de-burring, rust removal, engraving, carving and cutting. The 1/8hp motor features special technology (no replacing of brushes necessary) with full-wave electronic speed control (from 5,000 to 20,000rpm) allows for powerful operation with constant torque, even at low speeds! The keyless precision chuck allows for quick exchange of all accessories with shanks from 1/64″ to 1/8″. The MSRP is $96, and the unit is available from Proxxon, www.proxxon.com/us.
---
Ramelson's 10 piece Woodcarving-Gunsmith-Linoleum Block Tools with a leather tool role features 10 palm handled carving tools including a 5/16″ bent #8 gouge, a 9/64″ bent V-tool, a 9/64″ straight gouge, a 3/8″ skew and a 3/8" bent chisel, a 1/8″ straight V-tool, a 1/8″ straight U-gouge, a 1/8″ straight gouge, a 3/16″ #5 straight fishtail gouge, and a 1/4″ #5 straight fishtail gouge. It includes a 10-pocket suede tool roll. All of the tools and handles are made in the USA. The set sells for $99 with free shipping (no other discounts can apply. Contact Ramelson at 973-589-5422, www.ramelson.com.
---
The Sketch-it clipboard is an Etch-A-Sketch for dummies. This drawing tool is so simple that you'll wonder why no one ever thought of it before. There's a series of microgrooves etched in the writing surface for your pen or pencil to follow beneath the paper. Just start drawing and you'll have perfectly parallel lines, right and left, up and down, scaled at exactly 1/4"—perfect for drawing quick plans! If you're a hobbyist or woodworker and you're sketching your next project, Sketch-it makes it easy to draw clean, precise diagrams! Sketch-it comes in several colors, and you can view a demo video on the website. Go to Sketch-it.com or call 877-392-7538 for more information or to order one for just under $25. Flat rate shipping is $5.
---
Check out Gil Drake's SPECIAL knife for all around carving available from Smokey Mountain Woodcarvers. The ergonomically shaped handle allows easy cutting with a pull or push cut. The blade is 2″ long and 1/2″ wide at widest point. The blade is rigid enough to allow heavy duty wood removal, and the knife comes with a great looking 5″ handle (the wood type will vary). The knife comes with leather sheath. The knife is available for $49.95 plus $9 S&H from Smokey Mountain Woodcarvers, www.woodcarvers.com.
---

Make your shop saver with the Fume-inator available from The Woodcraft Shop. While you are working on a woodburning project, the smoke fumes that develop are irritating and, in some cases, harmful. The Fume-inator can quietly process up to 1.37 cubic meters of air per minute through a carbon-activated filter. The unit is available until Dec. 31, 2015 for $49.95 plus $10 S&H. Order online at www.thewoodcraftshop.com (Item #333253) or call 800-397-2278.
---
The Arbortech Contour Sander is a 2" random orbital sander now available from TreelineUSA. The sander mounts onto most 4-1/2" angle grinders. The sander is a random orbital sander, minimizing the circular scratches in the wood. The sanding pad is soft enough to conform to uneven surfaces but rigid enough to quickly sand and polish. Kit includes 25 discs from 80-600 grit. Grinder not included. The sander is available for $89 plus $9.95 S&H from TreelineUSA, www.treelineusa.com, 800-598-2743.
---
The High Speed Carving Bur Set from Turbo Carver is a great basic set to offer more possibilities to your carving. The set also includes a high quality dental bur cassette carrier to keep the burs secure and organized. This is an excellent selection of 1/16" shank burs including an assortment of diamond, stone, and carbide bits. This set is available for $89.98 from Turbo Carver. Find this and other specialty bur sets at Turbo Carver.com.