This enchanted village has so many amazing details, you'll forget it's a tree stand
By Kaylee Schofield
A distinguished carver for over 35 years, Betty Padden has made a name for herself with a signature style that is nothing short of fantastical. Her designs marry an organic, often unsanded texture with built-up layers of eye-popping color—and this 14″ by 20″ (35.6cm by 50.8cm) Christmas tree stand, complete with moving parts and an interior lounge, takes those qualities to a whole new level.
        Betty and her husband Bob own Wooden Apple Signmakers in Auburn, Mass., where they create commissioned pieces and teach carving classes to 125 students per week. While in Pennsylvania this August, the Paddens stopped by to let us photograph the stand, and Betty gave us the details on her spectacular holiday creation.
Take a video tour of the elfin village HERE!
---
How Did She Do It?
• "I started with eight individual layers, each of which contains many pieces. The floor is 1″ pine, and most of the rest is 2″ pine. I rough-carved each piece separately, inside and out, and stacked the layers progressively as I finished them, starting with Layer 1 (the bottom). I didn't glue them together until later."
• "Once all the pieces were carved and stacked, up to the ceiling of Layer 6 (the inside structure), I refined the edges so they blended smoothly into each other. Then, I began to paint the inside. Once the inside was painted, I glued all the layers together."
• "I then refined the outside carvings so they would flow into each other to form the appearance of a knobbled stump. I painted and blended the outside using alkyds, adding the movable parts—such as hinged doors and swinging signs —at the very end. Then, I wired the windows, chandelier, and fireplace, so that they light up when you plug it in. I'm always making more props to add to this world. The beauty of it is that there's no distinct stopping point."
---
Photo Gallery
For the full article, check out our Winter 2018 issue of Woodcarving Illustrated, #85. 
---
Find more of Betty's work or sign up for a class at woodenapplesignmakers.com. For patterns, design help, and student work, check out bettypadden.com, coming soon.
---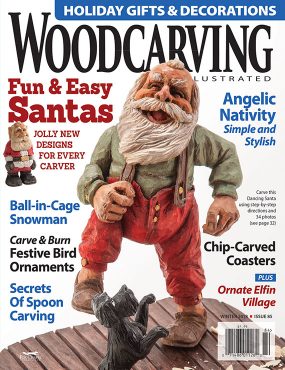 • Click
HERE
to get the Winter 2018 issue.
• For more articles like this, subscribe to 
Woodcarving Illustrated
 magazine. 
Click here
 for more information.
• Plus! Get digital mini magazines in your e-mail between printed issues. 
Click here
 to subscribe to StropTalk, our e-mail newsletter.
---